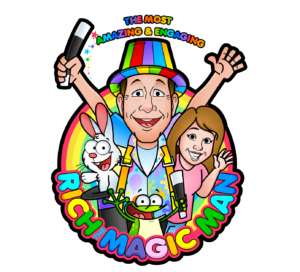 18th Annual Magic Camp by Rich The Magic Man
Rich the Magic Man will make this the happiest week of your child's life! It will truly be a magical week full of fun that will boost self-esteem and self-confidence.
VIRTUAL MAGIC CAMP 
All the fun and learning of cool magic tricks from the comfort and safety of your home.                                                                                                                                                                         July 6-10  & July 13-17 both run 1:30-3:00 pm
Cost : $130 
I will mail you all the supplies and tricks you will need for the week.
MAGICAL CREATION CAMP
The only all day Magic Camp in the Rochester area!!!!                                                                                                                  August 3-7;  9:00am-3:00am
Fairport – Perinton Park
ALL DAY for $225 or Half-Days for $125     
Sign-up online on this Website by clicking here.
                         Also you can call or text 585-729-0035
Please Note for all day campers:
LUNCH OPTIONS:
     * Bring your own lunch
     * LUNCH DEAL – pizza, soda, chips and a treat for $5.00
Deposits of $50 payable online.
Make your payment of $225 for Magical Creations Camp CLICK HERE.
$50 deposit/camper hold your spot. Balance of $175 due July 31st.  If paying balance by cash or check – balance can be brought when dropping off your camper.
OTHER CAMP WITH RICH THE MAGIC MAN:
Webster Magic Camp – June 29-July 2; 9-11:30 am
Sign-up through Webster Recreation Department  585-872-7103 or online at Webster Recreation
Ogden/Spencerport Magic Camp – July 13-17 9-11 am                                                                                                           Sign up with Ogden Recreation Department 585-617-6174
Henrietta Magic Camp – July 27-30; 9-10:30 am
Sign-up with Henrietta Recreation  585-359-2540
Webster Magic Camp – August 10-13; 1-3:30 pm
Sign up through Webster Recreation Center (585)872-7103 or online at Webster Recreation
For all camps make sure you pack:
* snacks
* Sunscreen
* Camera to capture your magical moment