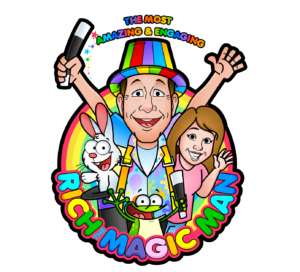 18th Annual Magic Camp by Rich The Magic Man
Rich the Magic Man will make this the happiest week of your child's life! It will truly be a magical week full of fun that will boost self-esteem and self-confidence.
Make your payment of $225 for Magical Creations Camp CLICK HERE.
$50 deposit/camper hold your spot. Balance of $175 due July 31st.  If paying balance by cash or check – balance can be brought when dropping off your camper.
OTHER CAMP WITH RICH THE MAGIC MAN:
Webster Recreation
June 28 to July 1
ci.webster.ny.us
(585) 872-8902
HFL Community Recreation
July 5-8; 9:30am-12:00
https://hflcsd.org/parent_community_resources/community_programs
(585) 624-7068
Ogden-Spencerport
July 12-16; 9:30-11:00am
https://ogdenny.myrec.com/info/default.aspx
(585) 617-6174
LeRoy
July 12-16;1:30-3:30p
http://www.leroyny.org/Town_of_LeRoy/Town_Recreation/town_recreation.html
Walworth
July 19-23; 1-3pm
https://townofwalworthny.gov/departments/recreation-department/
(315) 986-1400
HFL Recreation
July 26-30; 9:30-11:30am
https://hflcsd.org/parent_community_resources/community_programs
(585) 624-706
Hilton-Parma Recreation
July 26-30;1:30-3:30pm
hiltonny.myrec.com
(585) 392-9030
Henrietta Recreation
August 9-12; 9:00-10:30am
https://parksandrecreation.henrietta.org (585) 359-2540
Webster Recreation
August 9-12; 1:30-4:00pm
ci.webster.ny.us. (585) 872-8902
For all camps make sure you pack:
* snacks
* Sunscreen
* Camera to capture your magical moment