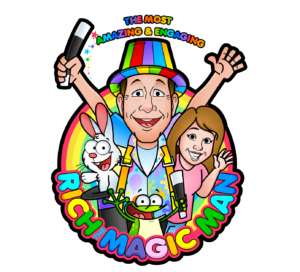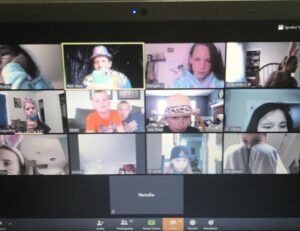 Now Booking Social Distancing and Virtual Magic Shows
call or Text 585-729-0035
Visit me on Facebook Live Fridays 11am EST for Planet Pandemonium
ROCHESTER'S MOST AMAZING CHILD ENGAGING MAGICIAN
"More Than 30 Years Entertaining Kids Of All Ages!"
Rich the Magic Man recently performed at our Dr. Seuss' Birthday PTSA event. The moment he walked in the door the children ran to him and he captivated the room immediately! The children (and adults) were engaged the whole time and he did a great job of working in the message that reading is FUN and a wonderful way to learn. If we do this event again next year we will definitely have him back! He truly made the Dr. Seuss event a hit! Thanks so much Rich!
Kristi Patton –  Victor PTSA
Rich and Karen are by far the BEST childrens entertainment around. If I could give him 100 stars I would. He showed up with a lifesize unicorn balloon for my daughter. It must have taken him hours to make. Then from the minute he arrived, he took right over. He had 20 plus kids completely entertained and engaged. His show was so fun to watch for the adults as well. He brings all of his own setup and knows what he is doing. He then gives every single child a bag of goodies with tricks and fun kid stuff for them to take home. Made balloons for each child after his show was over. Not only was I so impressed with his service, they provided me with a magnetic photo of my daughter and her friends for the fridge. Also, they blew up a picture and had it laminated right on the spot. They left me with a checklist for presents, and thank you cards for my daughter to fill out. I was so pleased. I have seen many magicians and have hired some in the past. Rich definently is my favorite and I will be using him again. He offers magic camps, foam parties, bubble parties and all around entertainment for childrens events. I have to say for me, he was a lifesaver. I had a party of 50 people. To know that for the 2 hours he was over, every single child was entertained and happy made me happy. It allowed me time to focus on the food, and entertaining the adults. LOVED Rich and Karen and would highly recommend them to anyone. I am very much looking forward to having him apart of our next event.
Briana Fenlon – Birthday Mom
I wanted to thank you and Rich for a WONDERFUL show. From the minute he stepped in, to the minute you left, Rich was engaging the kids. He learned their names right away- and that personalization made it great! He was excited, well prepared, friendly and hilarious!! The balloons and gift bags were just the icing on the cake!
It really exceeded our expectations! We've been talking about it all day! Our experience with you initially all the way through has been top notch, 5 stars!! Thank you for the great experience and memories. It was great to see Mackenna smile all night!!
We certainly hope to see you again!
Thank you!!
Wendy and Ian MacDowell