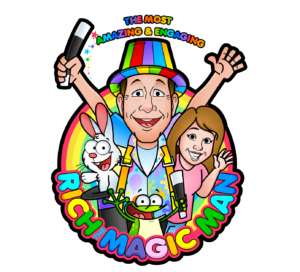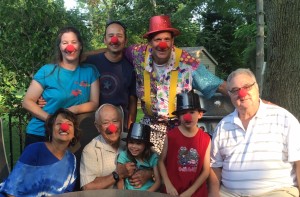 "How do you do it?"   – "for a living."
How much does it cost?
I am currently offering virtual magic shows. Please email me for more information: richthemagicman@outlook.com
How much space do you need?
Not much at all. For my equipment and props I need about a 5 ' by 5 ' area. Usually, your living room is a perfect place for this. Other than that, an area right in front of my performing area for the children to sit and enjoy the show is all that is needed.
Do you need a table?
Yes, a small table or a chair is all I need.
Can you perform the show outdoors?
Yes I can providing the weather is okay.  I do need shade on sunny days.  If the wind is blowing, that can be too much as some of my props are very light and will blow away.  Being indoors is a definite plus as  there will be less distractions.
Can we serve the kids food, snacks, and beverages during your show?
I recommend serving treats & drinks before or after the show. It's a HUGE distraction for the kids.  The least amount of distractions as possible the better. It is a show based on audience interaction and participation… clean hands are a plus! 
When should I serve food and cake?
The best time to serve food and cake, is after the magic show.
Do you require a deposit?
Absolutely not! You don't pay until the day of your child's party. I accept cash, checks, PayPal, and all major credit cards. Check out the online payment center for more info.
Is the show clean and age appropriate?
Yes! I take pride in that my show is specifically geared towards the age of the children I am performing for.  I specialize in entertaining children with clean and fun magic.  I always do a family friendly show!
When's a good time to have you begin your show?
A good general rule of thumb is to have my show begin about a half hour after the party is to begin. This prevents distractions from late arriving guests. Depending on which package you go with, the show lasts anywhere from 40 to 60 minutes.
I'm celebrating more than one child's birthday, can you still entertain at our party?
Yes! I then have all of the birthday children be the stars of the show. Everything else is the same except we have a few more lucky participants!
Do you know of any sources for birthday party goodies like plates, napkins, hats, etc.?
Yes! I can send you printable, personalized  party decorations and cool invitation tickets. Also, there is a great place called Birthday Express that gets nothing but rave revues from other moms. Check it out now!
*Important: Can we hire you to entertain our children in one room while all of the adults hang out in another room?
Due to liability issues, I do require that

all of the children be supervised at all times by at least one responsible adult

(besides me). I simply can't be held responsible for supervising them. This is to protect you, the children and myself.
Can we invite young infants and babies to the party?
Bring one, bring all, but please have young children supervised!!   They can become a distraction to the children and adults who are trying to enjoy the magic show. As for your pets, please keep them in a separate area (sorry Tinker Bell).
Can we give the goodie bags to children under the age of 3?
Please don't give the goodie bags to children under the age of the 3. There are small parts in there and I'd rather be safe than sorry.